Safe School Alliance (SSA) Lagos Chapter - Starter Information Pack
INTRODUCTION
Membership of the Safe School Alliance gives your organisation access to list their products and services as safe, approved and child friendly, hence available on the SSLAG marketplace for education stakeholders to access and procure. As such those approved products/ Services get endorsed by the Lagos State Safety Commission through the SSLAG Project Team's recommendations.
Membership Conditions: Members must
ensure that the products or their services to be endorsed as safe are indeed differentiated in the market by certain safety or child friendly features, which are verifiable.
offer value added, affordable, (value for money) products/services for schools and learning establishments to support the Safe School Lagos compliance drive.
collaborate with the SSLAG Team to offer a range of School Safety Compliance driven services such as support with implementing the mandatory safety Management System (SMS); documentation of approved school safety policies, procedures and self assessment reviews; support all SSLAG Key Elements 1-4 
support education stakeholders through Safe School advocacy initiatives and publicity campaigns, sponsorship or Capacity building of school teams in different areas of the school safety or to deliver Safety Cross Curricular themes
support schools to provide staff cover and supply teaching to enable schools meet the safety requirements of maintaining appropriate School Safety accustomed staff levels in the classroom at all times
provide access to relevant information about their products and services through the appropriate SSLAG technology Portal
(for more information on SSLAG Compliance Drive, Please Contact the Lead consultant, SSLAG  on schoolsafety@schoolrun.com.ng or www.schoolrun.com.ng)
MEMBERSHIP CATEGORIES
Membership is organised into three categories, namely: 
Beacon of Safety in Schools: Education and Learning Establishment (may be themed around sports, fun or religious purposes)
Full members: Corporate Organisations
Associate Members (SMEs', Assessors and NGOs).
IMPLICATIONS: There are specific implications for each of these categories and these implications is communicated during the SSA Vendors' Workshop. The Vendors Workshop that is scheduled to take place on the 19th April, 2022, at the LSC Conference room, is an Induction Workshop for all Vendors and is opened to all the different categories of membership.
However, the workshop deals with the implications for the corporate members based on their areas of exposure. For example, we have
A: Beacon of Safety in Schools;
B: Full members;
C: Associate members
D: Parent Watch Network
Subsequent workshops/briefings will be communicated to all registered members by emails when and if needed.
KEY PRODUCTS AND SERVICES THAT MUST BE ENDORSED AND WHY?
There is a need to regulate certain products and services that school aged children are exposed to due to the following reasons (but not exhaustive to these reasons):
CHILD PROTECTION & SAFEGUARDING: This is a human right issue for children of school ages. Children are vulnerable and should be protected from harm, abuse, exploitations and ignorance. Hence the need for proper regulations of education and learning personnel to uncover those who are unsuitable due to certain reasons such as history of mental illness, past unsafe behaviours and attitudes that may constitute risks to young children, thus disqualify them to be around school children
PROLIFERATION OF SUBSTANDARD AND DEFECTIVE PRODUCTS: The harm caused by such products is usually slow and may not be visible immediately, but may result in permanent disability or serious negative effects as the children develop. for example exposure to uncontrolled level of noise may result in permanent loss of hearing in adolescent stage. It is under the purview of the LSC not only to protect from immediate harm, but to prevent future harm and ensure that providers and school owners put in place measures to minimise risks of exposing children to products, services or environment that may compromise their safety now, in the immediate future or long time. As Africa is a dumping ground for cheap sub-standard and fake products, it is not uncommon to see many education and learning practitioners patronising cheap goods and services for optimal profitability, not necessarily because they intend to harm their pupils. In order to stop those goods from getting into our schools and causing harm either immediately or in the future, effective regulation is essential.
ENSURING STAFF HAVE THE RIGHT QUALIFICATIONS AND EXPERIENCE FOR THE ROLES THEY OCCUPY IN SCHOOLS: Incompetent and ignorant staff are not just bad for business, but they constitute a risk to themselves and those in their immediate environment. There is a need to ensure that school workforce are qualified, knowledgeable and experienced for the range of responsibilities delegated onto them to carry out on a day to day basis. Most incidents in schools bordering on safety issues can be avoided if staff on duty were experienced, capable and knowledgeable. School Owners must ensure that their workforce have approved qualifications, are knowledgeable and safety accustomed to respond to emergency situations and take pragmatic steps to minimise risks in the environment. The onus is on the management to prove that they have carried out the necessary references and background checks, given their workforce necessary and mandatory school safety training, professional development to carry out all the duties assigned to them. The LSC has put in place a safe recruitment database to support the efforts of school owners and education sector employers. Schools must avail themselves of this service through the SSLAG
TRANSIT AND STUDENT/PUPIL TRANSPORT SYSTEM: There is a high increase in accidents involving school children in minibuses and other forms of school transit vehicles. It is essential to regulate this aspect of education to ensure the activities invoked in transporting children to and from schools or educational trips are conducted safely. The type of vehicles, maintenance conditions; transit teams qualifications and conduct must be strictly regulated to protect school children from the adherent risks and negligence or staff errors.
INSURANCE: there is a need to ensure that education and learning establishments are adequately covering their activities, resources and people. Most especially in private schools where the bottom line is profitability, cutting corners must be discouraged. However, the Insurance plan must offer value added services for school safety compliance and not just a way to increase the schools investment exposure.
Others include Technology safety, consumption of safe food and drinks; protection from radicalisation, mental health well-being and so on
In a nutshell, there are lots of reasons to regulate and recommend approved products and services which have been verified and approved as safe or child friendly by the SSA. These products and services must promote safety culture and compliance in our schools.
For SSA VENDORS STARTER APPLICATION PACK contact members@pie2you.com or the SSLAG Team / Portal OR The SSA office  (Partners for education, PIE) for information about completing this form.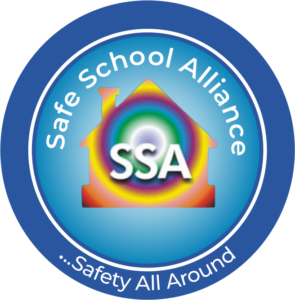 Why is Safe School Alliance necessary?
SSLAG Framework stipulates that
1. All individuals that are employed in activities to do with children and young people must be checked and fit for the purpose that they are employed for. This applies to workers, contractors, artisans and volunteers in schools.
2. All activities, places products and services that children have access to in schools and other allied establishments must be safe, child friendly and contribute positively to their leaning and development
3. Hence, the subjects described in items 1 and 2 above must be SSLAG Regulated
4. As such LSC is encouraging collaboration with school safety pressure groups or professional associations. All vendors, service providers and manufacturers of goods and services for children must be affiliated to at least one of these groups.
The Safe School Alliance meets this criterion as members of SSA support
Safe School Alliance members support schools to access appropriate and relevant safe goods, services, places and personnel on the SSLAG Market Place.
Vendors Workshop is scheduled to take place once a month as from April 2022.
For more information on Safe School Alliance contact Partners in Education (PIE) on www.pie2you.com
Or members@pie2you.com
For more information on the SSLAG Minimum Standards or the SSLAG Compliance Drive, Please Contact the Lead consultant, SSLAG on schoolsafety@schoolrun.com.ng or www.schoolrun.com.ng
Send all enquiries, comments and complaints to the Office of the DG/CEO
Lagos State Safety Commission
Block 18b, 2nd Floor Lagos State Secretariat, Alausa
safetycommission@lagosstate.gov.ng